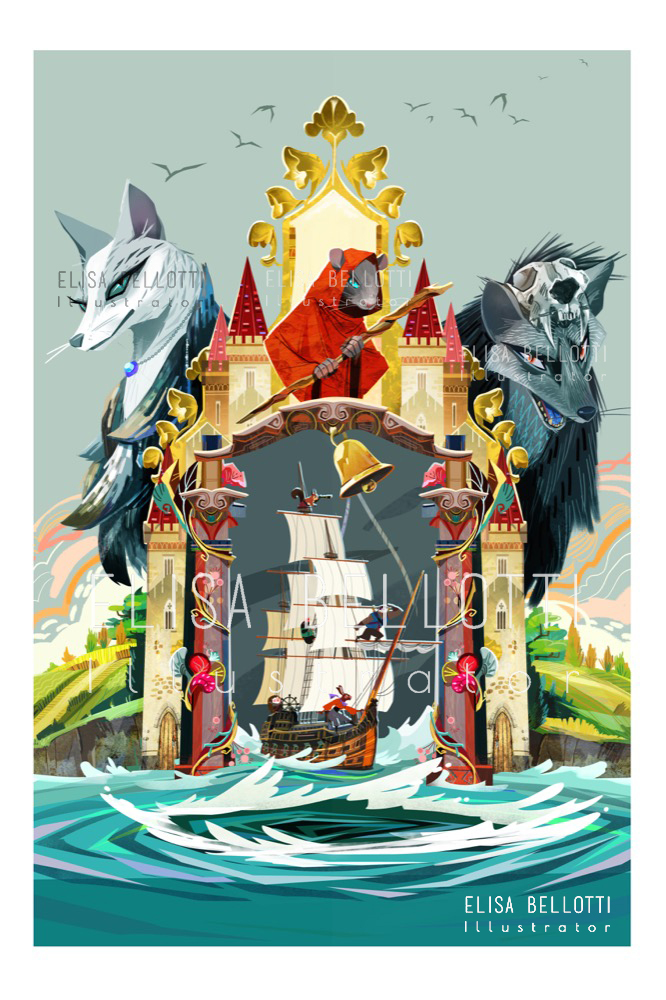 THE BELL MAKER – Book 07 – Redwall series by Brian Jacques
REDWALL BOOK SERIES by Brian Jacques illustrated by Elisa Bellotti (Italian super fan).
Book cover design for THE BELL MAKER – series written by Brian Jacques and illustrated by Elisa Bellotti (Italian super fan).
Restyle of "Redwall" book n1. Matthias (or Pietro in italian version), Cluny the Scourge, Methuselah, Jess Squirrel.
I decided to reillustrate covers that are inspired by the altarpieces of cathedrals and tell a story within the story. Indeed inside each architectural elements we find either the main character or a scene (from the first pages of the book) and 3 secondary characters.
The false perspective sometimes creates depth in others a sense of flatness. The style is not pictorial like a videogame but halfway between young and children's illustrations with spot colors alternating with textures and few shadows.
Redwall is a series of children's fantasy novels by British writer Brian Jacques, published from 1986 to 2011.[1][2] It is also the title of the first book of the series, published in 1986, as well as the name of the Abbey featured in the book, and is the name of an animated TV series based on three of the novels ( Mattimeo, and Martin the Warrior), which first aired in 1999. The books are primarily aimed at older children. There have been 22 novels and two picture books published. The twenty-second, and final, novel, The Rogue Crew, was posthumously released on 3 May 2011, almost three months after Jacques' death on 5 February.[3]
Redwall
Mattimeo, (1998)
Mariel di Redwall, (1998)
Martino il guerriero, (2002)
Giuseppe di Redwall, (2002)
Il reietto di Redwall, (2003)
Le perle di Lutra, (2003)
La pattuglia delle dune, (2004)
La regina di Castel Vulpombra, (2004)
La leggenda di Luca, (2005)
Cluny, Martino il guerriero, Pietro, Lepre cervo basiglio, Matusalemme, Giovanna scoiattolo. Salamandastron, mossflower, fiormuschiato, Gonff, Zarmina, Gingivero, samkin, arula, ferhago, slagar, vulpombra.
Illustratore redwall, illustratore brian jacques.
Redwall Italia, libri redwall italia,
Elisa Bellotti Illustrator:
Elisa Bellotti is a volcano, keen reader, manga-holic, fantasy fan, cat lover, and most of all she is an illustrator (since she does not know how to do anything but drawing!) based in Pavia, Italy. After some experiences outside "artist world" that paid the rent and a basic assignment in a web design agency in Milan, she started working as a freelance illustrator. She has won numerous national awards and currently works with publishers, illustrating editorial, fiction, children's book and she'll continue until her arm definitively falls down.
web: www.elisabellotti.it
Instagram: @elisa_bellotti_illustrator