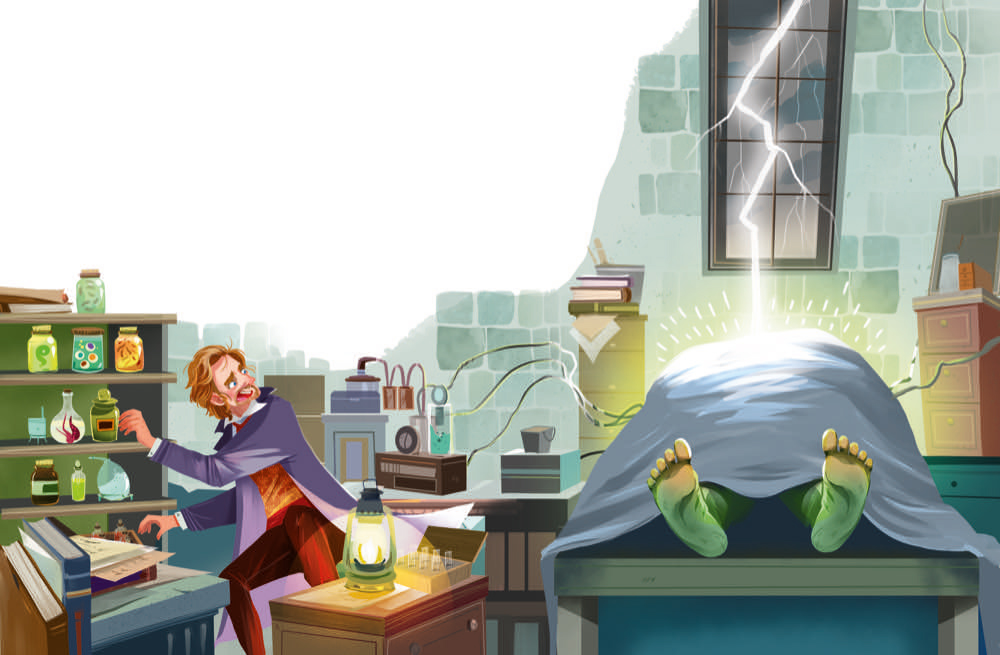 Frankenstein – Scary and mystery stories – Rusconi
Frankenstein – Scary and mystery stories – Rusconii
Frankenstein – Scary and mystery stories – Rusconi – Bellotti Elisa  Concept design, Frankenstein – Scary and mystery stories – Rusconi. Libri per ragazzi. Illustratrice fantasy Elisa Bellotti. Illustratrice per ragazzi Elisa Bellotti
Frankenstein – Scary and mystery stories – Rusconii – Bellotti Elisa   Libri per ragazzi. Illustratrice fantasy Elisa Bellotti. Illustratrice per ragazzi Elisa Bellotti
https://www.facebook.com/ELisaBellottiIllustrator/
Elisa Bellotti was born in Pavia on 09/13/1988 .
After earning a scientific degree, she enrolled at the illustration course at the "Milan School of Comics".
Elisa attended the course "MI – Master" in editorial illustration and obtained the degree in graphic design.  
She paints with the main traditional and digital painting techniques.
Working with the Adobe suite and with digital coloring programs.
 She has gained experience in the field of communication, publishing and advertising.
First as a freelancer and then in a team in communication agencies.
Here she has found different realities and changed her style depending on the needs and the target. 
For publishing illustrates covers, series and books, concept design, environment.
Elisa Bellotti create custom graphics for print and the web. 
Elisa Bellotti is a member of AI -Italian Illustrator Association– and she obtained prizes and awards at national level.
"Don't be afraid of opposition. Remember, a kite rises against, not with the wind."   – Hamilton Wright Mabie
Elisa Bellotti is an Italian illustrator from Pavia. She studied illustration at the School of Comics in Milan, then at MI–Master and finally she obtained a degree in graphic design. She was employed in a web design agency in Milan until she started working as a freelancer with the most important Italian publishers. She illustrates educational, editorial and young books painting with the Adobe suite CC. In 2018 she published for Mondadori "Stai Fermo, Toto!" a children's book both written and illustrated by her. The most recent awards are the selection for "The wheel of time" new edition Lucca Comics 2019, Annual AI "Autori di immagini" in 2019 and 2018, the Gold medal in design category in 2017 and the first prize at the Lucca Junior in 2016.
Clients – Mondadori, Pearson, Rizzoli, Giunti, Helbling Languages, Rusconi Libri, Fanucci, Moon, Nui Nui, Feltrinelli, Gribaudo, Gruppo Editoriale Raffaello, Eli la Spiga Edizioni, Epitesto Srl, Edicolors,  Elastico, Liberty Srl, Special Glue Srl, Timberland, Moleskine, MINI, Ferrari, Superhub, Superanda, Beyond Design, Airett, MITO Milano, ESC, AI, Wafers Farma Decor.