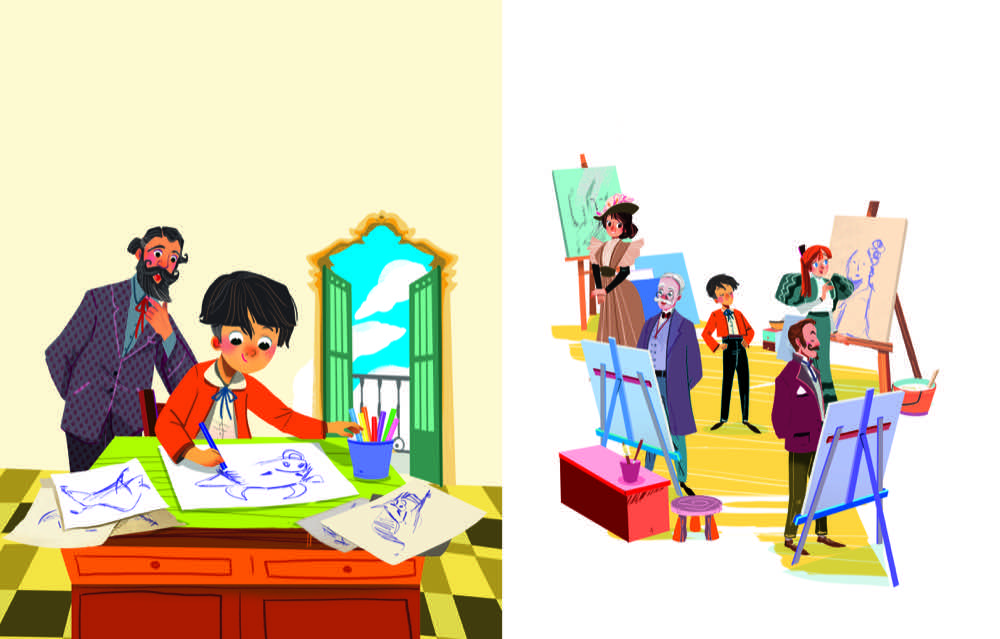 Pablo Picasso – Hachette – Hachette_Elisa Bellotti-Hachette- edicola-libri sull'arte
Pablo Picasso – Hachette_Elisa Bellotti-Hachette- edicola-libri sull'arte
Pablo Picasso – Hachette_Elisa Bellotti-Hachette- edicola-libri sull'arte
Pablo Picasso – Hachette e_Elisa Bellotti-Hachette- edicola-libri sull'arte
https://www.facebook.com/ELisaBellottiIllustrator/
Elisa Bellotti was born in Pavia on 09/13/1988 .
After earning a scientific degree, she enrolled at the illustration course at the "Milan School of Comics".
Elisa attended the course "MI – Master" in editorial illustration and obtained the degree in graphic design.  
She paints with the main traditional and digital painting techniques.
Working with the Adobe suite and with digital coloring programs.
 She has gained experience in the field of communication, publishing and advertising.
First as a freelancer and then in a team in communication agencies.
Here she has found different realities and changed her style depending on the needs and the target. 
For publishing illustrates covers, series and books, concept design, environment.
Elisa Bellotti create custom graphics for print and the web. 
Elisa Bellotti is a member of AI -Italian Illustrator Association– and she obtained prizes and awards at national level.
"Don't be afraid of opposition. Remember, a kite rises against, not with the wind."   – Hamilton Wright Mabie
Digital painting is a method of creating an art object (painting) digitally and/or a technique for making digital art in the computer. As a method of creating an art object, it adapts traditional painting medium such as acrylic paint, oils, ink, watercolor, etc. and applies the pigment to traditional carriers, such as woven canvas cloth, paper, polyester etc. by means of computer software driving industrial robotic or office machinery (printers). As a technique, it refers to a computer graphics software program that uses a virtual canvas and virtual painting box of brushes, colors and other supplies. The virtual box contains many instruments that do not exist outside the computer, and which give a digital artwork a different look and feel from an artwork that is made the traditional way.